2013 Christmas Hampers
Wednesday December 11th, 2013; In the season of giving, and the spirit of good cheer, the Bocage Secondary School took its relationship with the community to another level.
The staff and students of the school embarked on the "Project Smiles" operation, to bring some Christmas smiles to some friends and families.
The local media was called in, but as always, B.S.S. media team was always on hand to capture moments like this.
The then principal, Mrs Mary Malaykhan, led the anxious crowd filled with holiday cheer as they visited four separate families.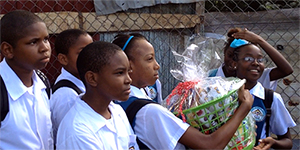 Among the recipients were a past security officer who worked at the school, and a current student of the junior department.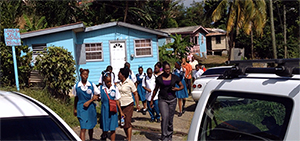 The school did not view these persons as underprivileged, but rather, individuals in society whose works needed rewarding.

Most teachers help with a shuttle service to transport personnel the and from different locations.
The school's choir serenaded the families with a choral masterpiece as the rest of the school body joined in singing.
The school looks forward to working closely with the community.